Course Details
The Citizens Pell Bridge Run provides a unique but challenging 3.75 mile course with one major "hill" – rising at 4.8% grade to 215 feet above sea level!
The timed race is open to runners and walkers and starts in Jamestown, crossing over Narragansett Bay and finishing in Downtown Newport.
2023 Course Updates
Starting in 2023, we have updated our course due to the reconfiguration project of all on and offramps on the Newport side of the Claiborne Pell Bridge.
Runners and walkers will now queue up at the toll plaza in Jamestown, and cross the bridge in the two westbound lanes while vehicle traffic will now alternate in the two eastbound lanes.
Participants will then exit left off the reconfigured highway at the new offramp before turning left onto Jt. Connell Highway/Farewell St.
The new course measures at 3.75 miles compared to 3.93 miles from the previous eleven iterations of the race.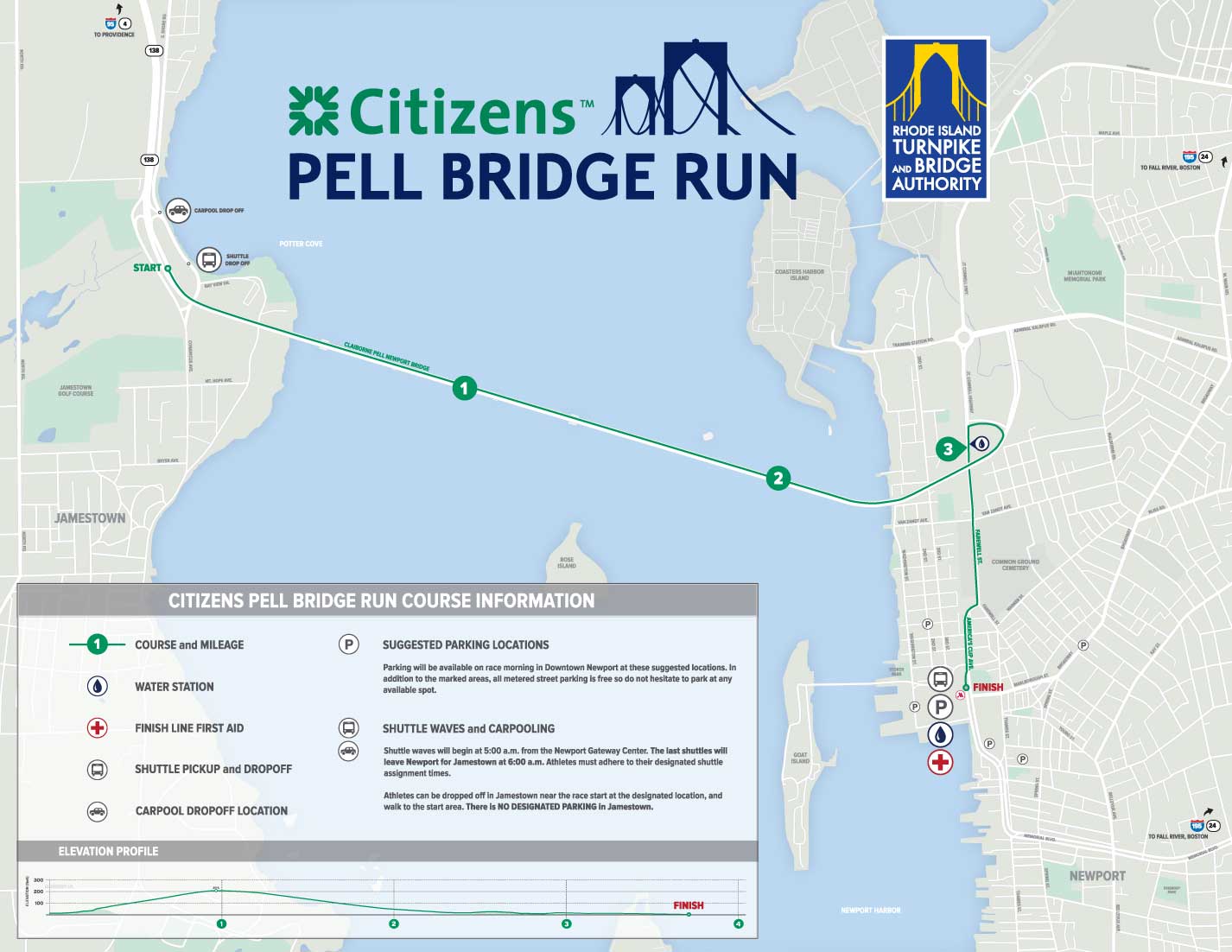 Time Limits
Registered runners and walkers are welcome to enjoy the Newport/Pell Bridge, however, all participants must be off the bridge in one hour. This requires a 3 mph. pace. All participants unable to maintain this pace may be escorted off the bridge by race officials.
Parking
There is NO PARKING at the race start in Jamestown. All athletes must use the shuttles from Newport or be dropped off at the designated athlete drop-off locations. Parking Locations Map.
Free parking is available at the Newport Visitors Center until 9:30 AM. Space is limited in this lot so we encourage you to consider all parking options throughout Newport, but please be aware that parking meters and major lots are still charging at this time of year.
Shuttles
In order to put on this event, we must comply with strict time constraints and appreciate your cooperation and respect for our requirements. We understand that the early start time, shuttles, and the point-to-point nature of the race adds unique challenges. We particularly ask for your attention in adhering to your shuttle assignment (assigned Friday, 10/15)  in order to get everyone to the start line on time.
Shuttles will begin transporting athletes from the Newport Visitors Center to the starting line in Jamestown beginning at 5:30 a.m. It is critical to event operations that all athletes abide by their assigned shuttle time. Times are based on your registration order. Those participants that signed up earliest have the later shuttle times. No shuttles will leave Newport after 6:45 a.m. Shuttles are available for registered participants only. You will need your race bib to board the shuttle.
Drop-Off Option
Athletes wishing to be dropped off near the starting line coming from Newport will take the East Shore Rd exit just after the toll plaza and head north on East Shore Road until they arrive at the designated drop off location. Drop-Off Locations Map.
Athletes coming from the West Bay will take the first exit in Jamestown and follow signage to the designated drop-off location. NO PEDESTRIANS ARE ALLOWED TO EXIT THEIR VEHICLES ON Route 138.
Extreme Weather
There is always the potential for extreme or severe weather conditions. Race organizers will do as much as we can to ensure the experience is as safe as possible. In the event of severe weather, the race may be delayed as race officials consult public safety officers. If there is more than a short delay, if conditions persist, or the forecast calls for extreme weather, race officials reserve the right to alter or cancel the race. Entry fees are non-refundable. Please check the website, our Facebook page and your email before the race for any changes or cancellations. All entry fees are non-refundable, and there will be no-rain date.
NO Strollers or Pets
We do not allow strollers or pets on the bridge. All participants MUST be registered for the race, including infants and toddlers.
Frequently Asked Questions
Please thoroughly review the race website and frequently asked questions page. If you have any additional questions please contact us at [email protected]. May-November